! Page devoted to 2009 50th reunion>

<!BODY TEXT="#000000" LINK="#0000FF"> <!BODY BGCOLOR="#C6E7FF" TEXT="#000000" VLINK="#CC0000" LINK="#OOOOFF">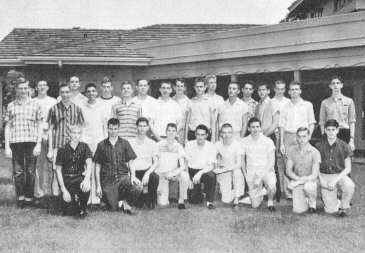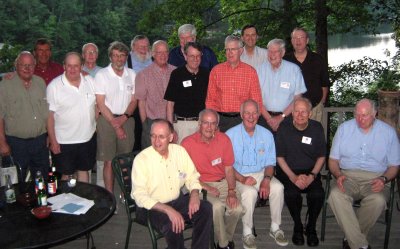 2009 photo, From Left to Right, Standing Rows: Richard Green, Willum Fowler, M.D. Smith, Peter Wuescher, Sandy Petry, Sam Moorer, Roy Knight, Charles Robinson, Tom Lloyd, David Huggins, Arthur Freeman, Eugene Hawkins, Bob Watson.
(Seated L to R) Jesse Shearin, Bob Athey, Jerry Lanning, Allan Cruse & Steve Coleman
ISS Class of 1959's 50th Reunion
Saturday, May 30, 2009
Follow up letter to Class of '59
---
Update of June 4, 2009

Dear Class of '59 members and friends:
The Friday evening party was at the Wine Loft downtown at 1st ave and 22nd street. A good group of Alumni showed up and I have photos of most of them there. Peyton Bibb came and said he was not going to be able to make the Saturday reunion. Those that were at the Friday party were glad to see and talk with him, and those that only came to the Saturday party were sorry to have missed him. David Rinald was not able to come because of the graduation of his grandson, but he called at 7:00 pm Saturday and talked to about everyone there. Billy Mack and wife returned to Alabaster from a cruise that day and could not make it.
Arthur Freeman got the Alumni of the Year award. There were two good intro speeches for him (one by Steve Coleman), and Arthur delivered a very nice acceptance speech. We found out more about Arthur's feelings about vampires during those speeches. Steve said Arthur had a nervous laugh during "Blood of Dracula."
One photo is of Burr Spencer and the subject of Camy Odgen came up. He told a wonderful story about a short fight on the bus he and Camy had in the early days (with Alma driving who was unruffled by the commotion), and some day I'll pass that story along.
Great lunch at the dining hall and you will see some of our group at lunch there. After lunch, I went with Allan Cruse, Bob Athey and his wife on a bit of exploring behind the Hut at the lake. The Observatory is gone, but there are neat tunnels in the bush where the trails lead.
Music was piped throughout Jerry and Joyce's lake house from their new music system and my stereo, mp3 CD player and fm modulator radio I brought. It all worked perfectly. The food was outstanding and everyone got their fill of the food and drink of their choice.
A group of ISS faculty & staff came out in a limo, but it could not navigate the winding single lane road and a wheel went off and got stuck blocking the road. The staff was brought to the Lannings, where they stayed a good long time, till the limo got unstuck, turned around and took them to the next event. It was fun visiting with the new teachers of French, Chemistry, alumni staff and Charles Ellis and Mr. Fleming. Near the end, Gareth Vaughan the new headmaster came by the party and we were glad to have him visit. He missed some of those who left early.
The ISS Staff photographer came by (he was delayed by the limo blocking the road) and took a group photo of just the class of '59. A few of the wives took some photos, but I was in the group, so I don't have any of that. Please send me any you might have available and I will send them around.
It was a really great weekend, and I had the best time I can remember. I was NOT foggy minded at the end of the party. The booze clouds my mind and I wanted it clear. Sam Moorer stayed till the end and when he tried to leave, his car had a flat tire. I ended up driving him back to his motel at the ISS exit. Sunday he had to have the auto club go out to Jerry's and change the tire and get back on the road to Tallahassee. We had a real good personal talk on the way home.
That's the wrap up, condensed version. Please send me any photos you took and I will add them to the collection. I truly enjoyed the visiting with all of you there.
Thanks to Joyce and Jerry more than words can say. Joyce made the photo attached. It has been great to have such a fine place for our parties for the past number of reunions (one or two was at their town house in Mt. Brook), and Joyce tentatively offered us their place for a 55th. Linda Freeman has also expressed interest in hosting the 55th. I hope we are all around and mobile and can attend that. But this 50th was the big and perhaps the best one ever. Thanks to all who came, helped in various ways and contributed to it being such a big success.
Best regards,
M.D.
Visit these pages frequently. Below is the senior year photo, and at the top of the page was our freshman year photo. (And I have added 18 of us from 2009 party) I know the top photo is the freshman picture, because Charles Gaines is in the photo and he was only there one year. We changed a bit in four years, both our class and us as individuals. And of course, we changed even more in 50 years after our graduation.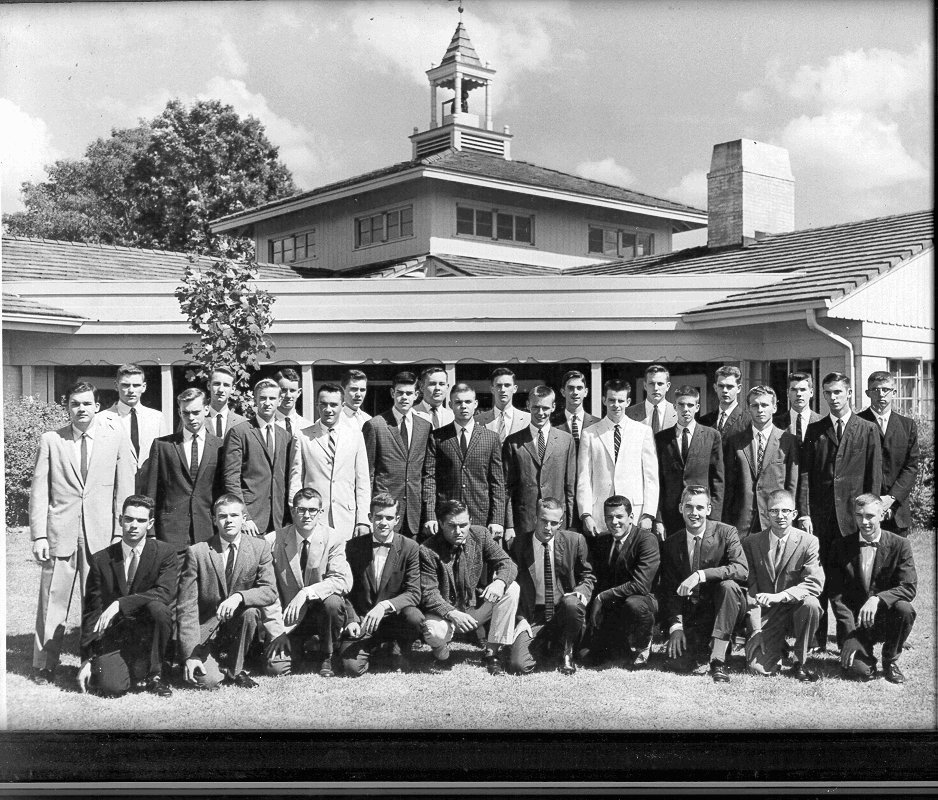 - 30 -


Please send any comments to M.D. Smith (mdsmith@HiWAAY.net)