!BODY TEXT="#000000" LINK="#0000FF"> <!BODY BGCOLOR="#C6E7FF" TEXT="#000000" VLINK="#CC0000" LINK="#OOOOFF">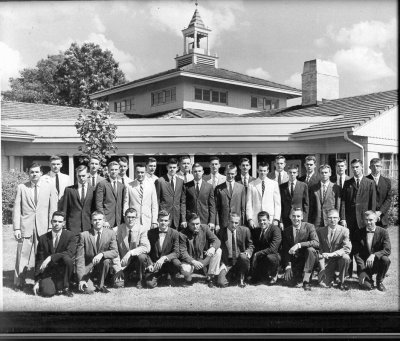 Class of '59, 30th Reunion
50's Song titles Invitation
January 1989

---
The Movie-Dance Party of 1959
(Invitation to class of '59 to 30th reunion party)
By
M.D. Smith

If you SINCERELY remember the music of 1955 through 1959, you should remember IN THE STILL OF THE NIGHT is when FOOLS FALL IN LOVE if they have LUCKY LIPS. If you recall, MR. LEE was dating LONG TALL SALLY in SHORT SHORTS and AT THE HOP, they were SEARCHIN' for YOUNG BLOOD. Also, Bob Green was SO TOUGH that he had to GET A JOB. That's when William Lanning in his BLUE SUEDE SHOES had to STAY in KANSAS CITY with THREE JOLLY COACHMEN. Peyton was dating SUSIE Q until he said, "here is MY DING A LING" and she said BYE BYE LOVE to him.
Scotty Creek found the BOOK OF LOVE with PEGGY SUE but daddy BIG BOPPER, who was a WILD ONE, caused him some PROBLEMS. I remember the night we had some TEQUILLA and A BOTTLE OF WINE then went RAUNCHY to Saluria where I said OH BOY, but ANNIE HAD A BABY in THE CRADLE OF LOVE and I certainly wasn't going TO THE AISLE. Marty Robinson had an EARTH ANGEL and said, HALLELUJAH, I LOVE HER SO." Mike Watson said DO YOU WANNA DANCE, but he and Chuck Willis had to "HANG UP MY ROCK AND ROLL SHOES."
Peter and David knew that WITHOUT LOVE THERE IS NOTHING and it is best to COME SOFTLY TO ME. The both liked SWEET LITTLE SIXTEEN, and heck, they still do. Freeman found that his NEED caused some other PROBLEMS, but vampires are people too. Moorer was THE GREAT PRETENDER when he played THE HAPPY ORGAN (what organ was that?) Well, it sure made him happy DOWN IN MEXICO with RUBY BABY. Coleman SINCERELY liked BO DIDDLY's music and dated the QUEEN OF THE HOP. JAMIE and JENNIE LEE had their KA-DING DONG and it was a LITTLE BITTY PRETTY ONE. NO MORE does MY BABE say NOTHIN' SHAKIN.
IT'S JUST A MATTER OF TIME before we will all say, HERE COMES SUMMER and our 30th reunion. SINCERELY plan to reply I'LL BE HOME for the June 3rd 1989 reunion. Allen will surely have MOMENTS TO REMEMBER as we all ROCK AROUND THE CLOCK.
So DON'T BE CRUEL, just TELL ME on June 3rd THAT'LL BE THE DAY when you come back because ROCK AND ROLL IS HERE TO STAY.
LET THE GOOD TIMES ROLL.
+++++++++++++++++++++++++++++++++++
-30-

Please send any comments to M.D. Smith (mdsmith@HiWAAY.net)
---
This page created by M.D. Smith and last modified on November 7, 2007