History lessons may fade, not history teacher Mac Fleming
Monday, May 07, 2007
KEYSHA DREXEL
Birmingham News staff writer
When he accepted a teaching position at a new private boarding school for boys in north Shelby County in 1952, Mac Fleming thought he'd be there for just one year. But more than half a century later, he is still on the job.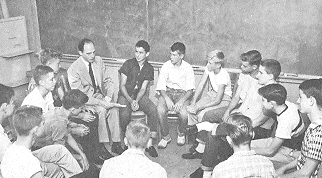 Fleming, 83, has been a history teacher at Indian Springs School since it opened in 1952 and is the last original faculty member teaching there.
Fleming plans to step away from the lectern next year.
"I hope the legacy is that I worked very hard at what I did and was fairly successful at it," he said.
Students he has taught over the last 55 years say he will be remembered for much more.
"He personalized the history lessons in a way that made them come alive. You'll always remember his stories," said E.T. Brown III, a former student and the school's director of admissions.
Fleming's encyclopedic knowledge of history, his engaging teaching style and his dedication to his students are unforgettable, said Kip Porter, a 1960 graduate.
Making a connection:
"He had a big impact on me," said Porter, executive vice president of Porter, White and Co., a Birmingham-based investment advisory firm. "I remember he had great patience with us and tolerated interruptions and any questions we had. He could connect with us."
Both Porter and the company's founder, James H. White III, were Fleming students at Indian Springs.
Fleming has a wealth of life experiences to draw from when he teaches history, Brown said.
"He has lived a good bit of history and his lessons weren't just facts and figures," he said.
Even when discussing 17th century tax law, Fleming was able to keep the students interested because of his own enthusiasm, said Rusty Rushton, a former student who is the assistant director of the honors program at the University of Alabama at Birmingham.
"He personalized it in a way that amused us, and himself," Rushton said.
Even as he relays his own story, Fleming can't resist adding a dose of history.
"When you start asking a history teacher about something in the past, chances are the conversation will veer a little," Fleming said.
Fleming's long tenure as a high school teacher was not intentional.
A native of Laurens, S.C., Fleming was an aviation radioman third class in the Navy during World War II. His squadron was based in Guam in 1944.
Doctorate interrupted:
Fleming planned to use money from the G.I. bill to become a college professor.
He was working toward a doctorate in education at Tennessee's Peabody College for Teachers when Louis Armstrong, Indian Spring School's first director, approached him with a job offer.
Armstrong, who had been one of Fleming's professors, urged him to give the new school a chance and to sign on to teach for one year.
"I was a little hesitant. There were all these rumors that Indian Springs was highly experimental, and I was more of a traditionalist," he said.
The experimental part, Fleming said, turned out to be a teaching philosophy focused on learning through living, which is the school's motto.
When the school first opened, the 350-acre campus was a working farm, Fleming said.
Armstrong's original idea was to let the students learn through doing as they worked on the farm.
While the students' farm work was short-lived, the philosophy behind it remained, Fleming said.
"Armstrong strongly believed that to be truly educated, you had to understand the unity of knowledge and how everything is connected," Fleming said.
Instead of being reprimanded for interrupting a teacher's lecture, Fleming said, students have always been encouraged to break in and add their points of view.
"That's something different than you might find at another school, especially back then," Fleming said.
That once-experimental teaching method remains a calling card at the school.
"Most of our classes are still arranged with the students sitting in a circle, facing each other and having discussions," he said.
During his first year at Indian Springs, Fleming said, Armstrong asked him to stay on another year, and he agreed.
More than half a century later, Fleming can't imagine spending his life anywhere else.
"I realized that I fit in very nicely here, I became very at home," he said.
Fleming has been teaching part-time since 1997.
"I've committed to one more year, but I know what happens every time I say just one more year," he said.
If he does fully retire, Fleming said, he'll use the extra time to visit with his three children and three grandchildren.
He'll also continue working on behalf of his church, Oak Mountain Presbyterian in Hoover.
"I've had a great time here, and I know I'll have some connection to this school for the rest of my life," he said.
++++++++++++++++++++++++[ Link to this story in B'ham news is ]++++++++++++++++
http://www.al.com/news/birminghamnews/index.ssf?/base/news/1178525957147120.xml&coll=2&thispage=1