January 22, 2009
Dear Class of '59 Member:
Our 50th Class Reunion is a bit over FOUR months away and THE DATE HAS BEEN SET FOR SATURDAY, MAY 30, 2009.  This is just after the Memorial Day weekend 23-25th, so mark your calendar. Visit http://www.iss-alums.net/iss-59-50th.htm for more info and updates that will be posted frequently from now until the last weekend in May.
That is the ISS Graduation Weekend, Homecoming Concert AND Alumni Weekend the 29th and 30th.   There will be a nice Social Party Friday night from 5:30 to 8:00, but the location has not been announced yet. I will put on the web site when I know.  I was told for the reunion groups, they might have a special table set aside to congregate Friday evening.
I have just finished dubbing the videotapes I made at our 30th and 35th reunions to a DVD, which I plan to play at our Saturday night party. On this DVD you will see the tape of June 3, 1989 at Arthur Freeman's house. I have tape from the ISS lunch and you'll see Mr. Draper exchanging conversations in French with an alumni, while Mr. Fleming listens, and at one point they all laugh. I took French, but could not follow along with the joke. You'll see Sam Moorer with no beard in the library as well as Allen Hill and Kip Porter talking. Doug Jennings came by the party that night, while I was dancing with Joyce Lanning. I was wearing my "Top Gun" hat that Richard Green gave me. I still have it and will wear it again.
Then you will see some video of just the party of May 21, 1994 at Jerry & Joyce Lanning's town house (before we started going to their lake place). Joyce and her daughter were really twisting it up that evening like two teenagers. Bob Watson and wife cut a pretty mean Bop dance caught on tape also.  Math teacher Arthur Humphrey visited with us that year also as did Mr. Fleming and his wife.
At one point, I said behind the camera to Peyton Bibb, "You'll smile 20 years from now while watching this tape," and he said, "Yeah, but I probably won't be able to see it."
I plan to shoot some more video this time on our 50th Reunion and then put all of them on a single DVD, which I will try to get you all a copy of sometime during the summer.  You will enjoy seeing the past two that I have recorded at our reunion.  
<![if !vml]>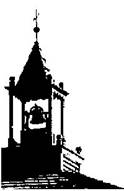 <![endif]>My numbers and addresses on the letterhead are valid. Again, my email is mdsmith@hiwaay.net and I hope to hear from you. If you do email and have not been getting my email, send me one so I can correct that.  I'll be in touch.  YOU be in touch.
Best regards,
M.D. Smith, IV
Lifetime Commissioner of Recreation (and fellowship glue)